After 30 years, Arirang Kimchi still sticks to their motto "Always Fresh, Always Delicious".
Hand-produced with no artificial preservatives or ingredients, its high-quality flavor is derived from Mrs. Oh's distinguished secret recipe and a whole lot of TLC. Arirang Kimchi has never failed to bring our customers fresh kimchi done right for three decades and promises to deliver the same for years to come. Mrs. Oh still samples each batch for its perfect taste 'til this day.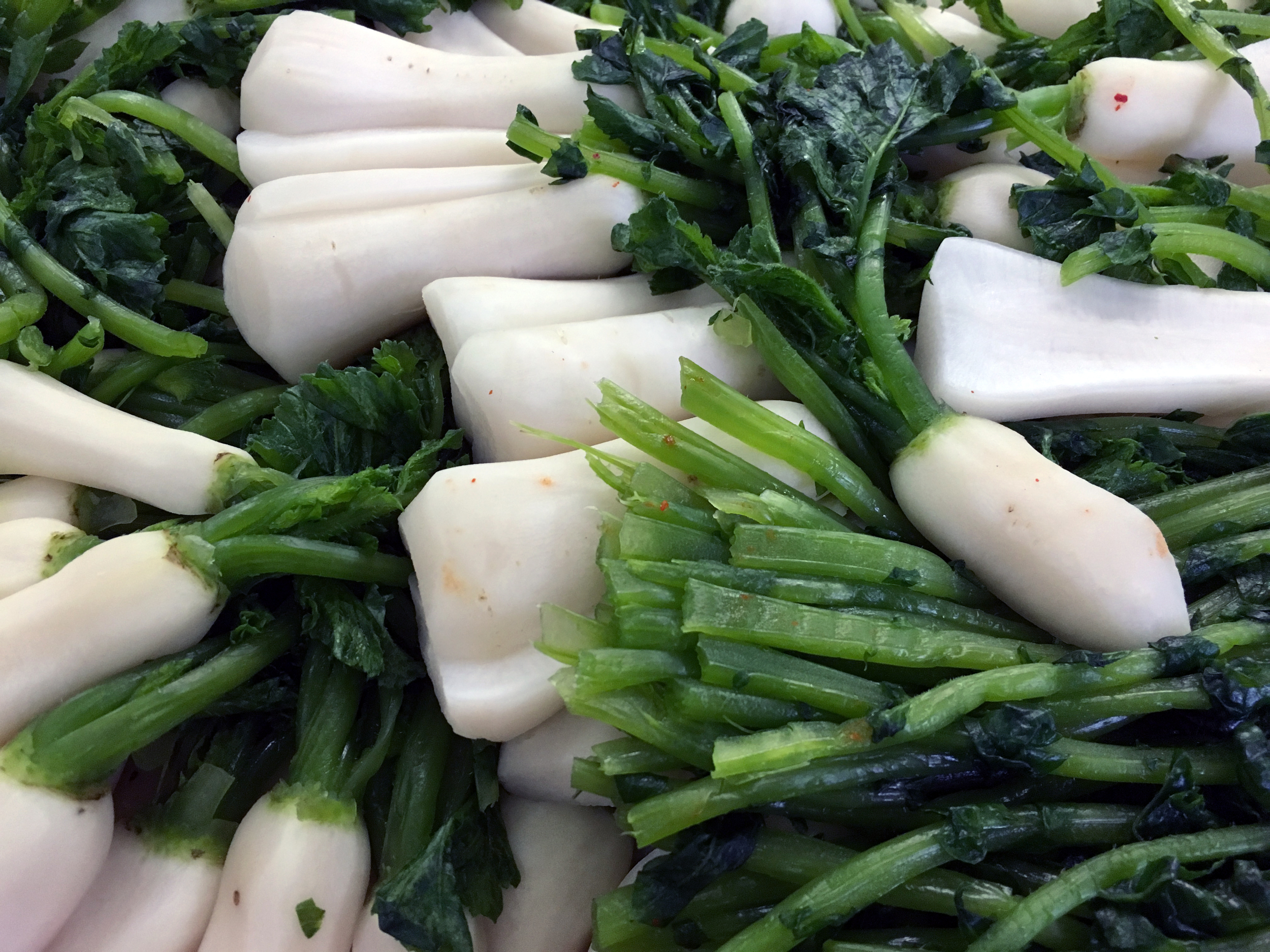 Kimchi is a traditional side dish that consists of fermented cabbage (or other vegetables such as radish or cucumber) that is mixed with a sauce of dried red pepper flakes, garlic, ginger, salt, and other spices. It can be made spicy or mild depending on personal preference.
What are the health benefits of kimchi?
Kimchi helps aid in digestion because it naturally produces lactobacillus, the "good bacteria", found in foods like yogurt, sauerkraut and kefir. Additionally, kimchi is loaded with vitamins A and C and antioxidants to strengthen the immune system.
What is the shelf life of kimchi?
Kimchi is naturally preserved via fermentation so it never goes bad. Once very pungently fermented, it is great to cook with.
What can I expect with the fermentation of kimchi?
Stage 1: Fresh, crisp flavor - similar to a salad.
Stage 2: 1-2 weeks of fermentation. Kimchi is releasing gasses and reaches its peak flavor. While still fresh, the briny cabbage has now infused with the sauce and flavors are bolder.
Stage 3: 3-4 weeks of fermentation. At this stage, the cabbage is wilted and less crispy and reaches a level of fizzy, stimulating and very bold flavor.
Stage 4: After about a month, the kimchi is extremely fermented- very pungent and strong in flavor. It is great to cook with at this stage.
What are some ways I can consume kimchi?
Kimchi can be put into stews and soups, makes a great topping and goes well with any protein. Chop it up and put it in your pasta sauce, grilled cheese, grits, pulled pork sandwich, eggs, etc.
When is the right time to consume kimchi?
Anytime is the right time. Kimchi can be eaten at any level of fermentation based on personal preference. Some people prefer it fresh and crisp, while others love it when it's really funky and fizzy.
What is the best way to store kimchi to maintain ultimate freshness?
When placing it back into your refrigerator, push the cabbage down below the liquid. This will ensure ultimate freshness of your kimchi.
WHERE CAN I FIND ARIRANG KIMCHI?
NY
Court Street Grocers
485 Court Street
Brooklyn, NY 11231
Court Street Grocers LaGuardia Pl.
540 LaGuardia Place
New York, NY 10012
Daido Market
522 Mamaroneck Ave.
White Plains, NY 10605
Fleishers (Park Slope)
192 Fifth Avenue
Brooklyn, NY 11217
Green Grape Provisions
767-769 Fulton Street
Brooklyn, NY, 11217
Greene Hill Coop
18 Putnam Avenue
Brooklyn, NY 11238
H&Y Mart Flushing
150-51 Northern Blvd.
Queens, NY 11354
Marlow & Daughters
95 Broadway
Brooklyn, NY 11211
The Brooklyn Kitchen
100 Frost Street
Brooklyn, NY11211
Location
1 Remsen Pl. #102
Ridgefield, NJ 07657
Hours
Monday 1pm- 8pm
Tuesday – Sunday 9am – 8pm
Contact
o: 201-313-7975
c: 551-265-5377